The digital anamnesis: All about our product
Software
The desktop version (for Windows or Mac)
The physician client supports you in the anamnesis of your patients: Here you can configure individual anamnesis surveys and view your patient's answers conveniently and clearly after the survey.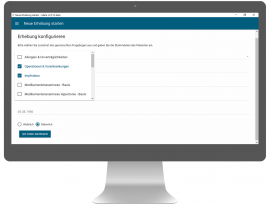 The mobile app (for Android smartphones and tablets)
With the mobile app, your patients can easily edit their personalized anamnesis questionnaire. Patient-friendly language and an intuitive user interface ensure high usability.
Intelligent For optimal documentation
highlights Idana Red Flags and
calculates diagnostic scores.
Evidence-based All questionnaires are filled out by doctors.
developed on the basis of official guidelines
and always updated.
Secure Idana meets legal data protection requirements and secures your sensitive data with modern encryption algorithms.
This is how the digital anamnesis works
The anamnesis can be easily started at the practice reception. Simply select questionnaires, scan the generated QR code with the tablet and the patient can start!
The patient answers the
Questions on the tablet and confirmed
the information with his signature.
Ready!
The anamnesis data is transferred from the tablet
via end-to-end encryption and wireless
to your computer.
A pop-up on the computer of the
doctor's report indicates that a new report
has been sent.
Thanks to encryption, only
he and his employees can access the data.
The report can be exported as PDF and
saved for documentation in the patient file
which saves time!
Idana has gathered all standard questions
and patient and doctor are better
prepared for the interview.
Patient satisfaction increases!
Idana's Questionnaires
All proprietary questionnaires are developed by doctors and are based on national guidelines. They are specially developed for anamnesis.
Most of our questionnaires are available in different versions so that you have the right questionnaire for every situation: Basis and detail as well as initial presentation and follow-up.
Idana also has numerous standardized diagnostic questionnaires. All existing questionnaires are checked regularly and further questionnaires will be added on an ongoing basis.
Let our professional medical content convince you!
Allergies & Intolerances
Surgery & Pre-existing conditions
Vaccination status
Drug history
Medication history Hypertension
Lifestyle anamnesis
Vegetative Anamnesis
Cardiovascular Risk Factors
Social Anamnesis
Stress Anamnesis
Gynaecological Anamnesis
Back Pain
Coming soon:


Heart Insufficiency
Auricular Fibrillation
Hypertension
Peripheral Arterial Occlusive Disease
Secondary Hypertension
Chronic Coronary Heart Disease
Digital anamnesis – also with your own questionnaires
You already use your own questionnaires in your practice and now want to use them in Idana? We digitize your questionnaires and integrate them into your account. Contact us and get a non-binding offer.
Preise
Per survey, i.e. per anamnesis of a patient, an amount of 0.50 € will be charged.
You can select and combine as many questionnaires as you like.

Bills are sent by email at the end of the month. You keep track of your surveys!
We only require a minimum monthly turnover of 10 € to cover administration and server costs.
Pay by invoice or conveniently by SEPA direct debit mandate.

All prices include 19 % VAT.
Starter-Set
Sie haben kein Tablet? Dann nutzen Sie doch unseren Service!
Wir liefern Ihnen ein vorkonfiguriertes Tablet mit Idana für den direkten Praxiseinsatz.
Dabei setzen wir auf das Lenovo Tab3 7 Plus*, welches bei geringen Kosten eine flüssige Bedienung bietet und dabei noch besonders handlich ist.
Dazu erhalten Sie einen hochwertigen Tablet-Stylus, der Ihren Patienten die Unterschrift und Zeichnungen wesentlich erleichtert.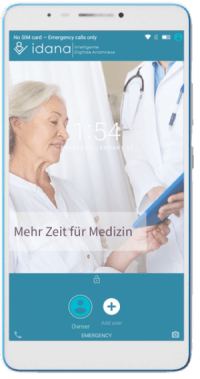 Weitere voreingerichtete Tablets (gleiches Modell) inkl. Stylus können
Sie gegen einen Aufpreis von 189 € (inkl. Ust.) pro Tablet erwerben. 
Erwerben Sie jetzt das Starter-Set zum Einführungspreis von einmalig 249 €
inkl. 19 % Umsatzsteuer für den sorgenfreien Einstieg.
Mit 14-tägiger Geld-zurück-Garantie!

Bestellen Sie das Starter-Set per E-Mail start@idana.one,
telefonisch unter +49761 203 968 91 oder direkt in der Desktop-Version der Idana-App.
Konditionen
Das aktuell angebotene Modell variiert in Abhängigkeit von der Verfügbarkeit. Bei Nicht-Lieferbarkeit informieren wir Sie umgehend. Sie können die Bestellung dann stornieren oder eine Alternative wählen.
Geld-zurück-Garantie: Sie können die bestellte Hardware innerhalb von 14 Tagen nach vollständigem Erhalt der Ware ohne Angabe von Gründen zurückgeben. Der Kaufpreis wird Ihnen auf das angegebene Bankkonto zurückerstattet. Sie tragen die Kosten für die Rücksendung. Die Geld-zurück-Garantie gilt nur, wenn die Hardware voll funktionsfähig, optisch in einwandfreiem Zustand, ohne Gebrauchsspuren und inkl. Verpackung und Zubehör vollständig ist.
Disclaimer:
The information provided by Idana may not be interpreted or used as a substitute for medical advice and therapy. The application is not intended to replace or provide a basis for medical diagnoses and/or treatments. The application is not a medical device according to its intended purpose. The provider accepts no liability for consequences resulting from the user or third parties using the data and information entered or generated.